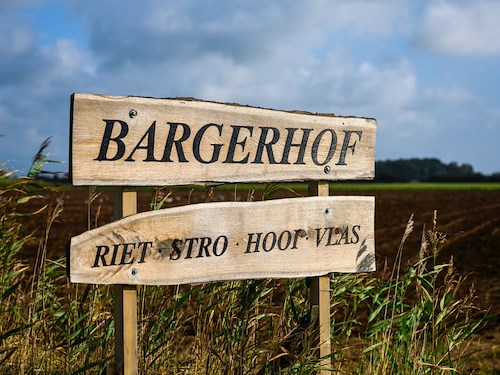 Vakantiehuis 6p. RIET
Accommodaties
Riet, the charming thatched holiday home, is situated in an oasis of peace and quiet. The house is equipped with all modern conveniences and the central heating makes it a good place to stay in the winter. The holiday home is managed by Nieuw Leven Texel. It is as the crow flies 1 kilometre from us, next to Den Burg. They can arrange everything for you; think of bicycle rental, bbq rental, breakfast on location Nieuw Leven, shopping service for your arrival and bookings for the best excursions on the island. On the grounds of Bargerhof you can use a washing machine and a dryer.

Around you you will see the typical Texel landscape and you can enjoy all the beauty of nature. With a clear sky you can discover a beautiful starry sky at night. The yard of Bargerhof Texel is spacious and safe for children. In the centre of the Bargerhof estate is a natural playground with a trampoline.

The layout of Riet is as follows; central is the spacious living room with dining area and open kitchen where you can cook delicious meals. From all sides you can enjoy the beautiful Texel landscape. On the ground floor you will also find the toilet and bathroom with a walk-in shower and a washbasin. Also here is a bedroom with two boxsprings. On the first floor are two bedrooms, both with two boxsprings. From the bedrooms you have a gigantic view. Upon arrival your beds will be made.

Each holiday home has its own cosy interior and they are all detached, sheltered with a spacious terrace. The gardens are south-facing making them light and sunny. They are well fenced so you can enjoy your privacy at all times.

A holiday at Bargerhof Texel is absolute relaxation and you can experience what it is like to stay on the Texel farmland. A world of silence, "tuunwoallen" and farm life unfolds all around you. In the morning you will be woken up by the beautiful bird sounds, in short, wonderful enjoyment with your family.

You can reach Bargerhof via a country road from the Oosterenderweg, which runs between Den Burg and Oosterend. From Bargerhof Texel the nearest village is De Waal, which is only a few hundred metres away on foot and close to Den Burg (4 kilometres), Oosterend (4 kilometres) and Oudeschild (5 kilometres). In the middle of the island, so actually everything is close by!

*Waalenburg: In the polder Waalenburg on Texel, your eyes are short of eyes. Here you can walk or cycle through meadows full of orchids, real cuckoo flowers, rattles, eucalyptus toast and english grass. Pied meadows full of screaming black-tailed godwits, kamikaze lapwings and tumbling redshankers. In winter you skate here on a prime location.




Keuken

Dishwasher

Refrigirator

Nespresso machine

Combination microwave

Open Kitchen

Parking

Parking on general parking

Parkingplace at the house

Other

Wifi (free of charge)

Laundromat on park

Beds are made upon arrival

Stair gate

General

Detached

First floor

Ground Floor

Pets allowed

Living area in square meters

:

75

Bedroom

Double bed (2 single mattresses)

Sanitary

Shower

Extra toilet

Separate toilet

Availability

February 2021
Mo
Tu
We
Th
Fr
Sa
Su
05
1
2
3
4
5
6
7
06
8
9
10
11
12
13
14
07
15
16
17
18
19
20
21
08
22
23
24
25
26
27
28
09
1
2
3
4
5
6
7
10
8
9
10
11
12
13
14

March 2021
Mo
Tu
We
Th
Fr
Sa
Su
09
1
2
3
4
5
6
7
10
8
9
10
11
12
13
14
11
15
16
17
18
19
20
21
12
22
23
24
25
26
27
28
13
29
30
31
1
2
3
4
14
5
6
7
8
9
10
11

April 2021
Mo
Tu
We
Th
Fr
Sa
Su
13
29
30
31
1
2
3
4
14
5
6
7
8
9
10
11
15
12
13
14
15
16
17
18
16
19
20
21
22
23
24
25
17
26
27
28
29
30
1
2
18
3
4
5
6
7
8
9

May 2021
Mo
Tu
We
Th
Fr
Sa
Su
17
26
27
28
29
30
1
2
18
3
4
5
6
7
8
9
19
10
11
12
13
14
15
16
20
17
18
19
20
21
22
23
21
24
25
26
27
28
29
30
22
31
1
2
3
4
5
6

June 2021
Mo
Tu
We
Th
Fr
Sa
Su
22
31
1
2
3
4
5
6
23
7
8
9
10
11
12
13
24
14
15
16
17
18
19
20
25
21
22
23
24
25
26
27
26
28
29
30
1
2
3
4
27
5
6
7
8
9
10
11

July 2021
Mo
Tu
We
Th
Fr
Sa
Su
26
28
29
30
1
2
3
4
27
5
6
7
8
9
10
11
28
12
13
14
15
16
17
18
29
19
20
21
22
23
24
25
30
26
27
28
29
30
31
1
31
2
3
4
5
6
7
8

August 2021
Mo
Tu
We
Th
Fr
Sa
Su
30
26
27
28
29
30
31
1
31
2
3
4
5
6
7
8
32
9
10
11
12
13
14
15
33
16
17
18
19
20
21
22
34
23
24
25
26
27
28
29
35
30
31
1
2
3
4
5

September 2021
Mo
Tu
We
Th
Fr
Sa
Su
35
30
31
1
2
3
4
5
36
6
7
8
9
10
11
12
37
13
14
15
16
17
18
19
38
20
21
22
23
24
25
26
39
27
28
29
30
1
2
3
40
4
5
6
7
8
9
10

October 2021
Mo
Tu
We
Th
Fr
Sa
Su
39
27
28
29
30
1
2
3
40
4
5
6
7
8
9
10
41
11
12
13
14
15
16
17
42
18
19
20
21
22
23
24
43
25
26
27
28
29
30
31
44
1
2
3
4
5
6
7

November 2021
Mo
Tu
We
Th
Fr
Sa
Su
44
1
2
3
4
5
6
7
45
8
9
10
11
12
13
14
46
15
16
17
18
19
20
21
47
22
23
24
25
26
27
28
48
29
30
1
2
3
4
5
49
6
7
8
9
10
11
12

December 2021
Mo
Tu
We
Th
Fr
Sa
Su
48
29
30
1
2
3
4
5
49
6
7
8
9
10
11
12
50
13
14
15
16
17
18
19
51
20
21
22
23
24
25
26
52
27
28
29
30
31
1
2
01
3
4
5
6
7
8
9

January 2022
Mo
Tu
We
Th
Fr
Sa
Su
52
27
28
29
30
31
1
2
01
3
4
5
6
7
8
9
02
10
11
12
13
14
15
16
03
17
18
19
20
21
22
23
04
24
25
26
27
28
29
30
05
31
1
2
3
4
5
6

February 2022
Mo
Tu
We
Th
Fr
Sa
Su
05
31
1
2
3
4
5
6
06
7
8
9
10
11
12
13
07
14
15
16
17
18
19
20
08
21
22
23
24
25
26
27
09
28
1
2
3
4
5
6
10
7
8
9
10
11
12
13

February 2021

There are no prices for this month

March 2021

April 2021

May 2021

June 2021

July 2021

August 2021

September 2021

October 2021

November 2021

December 2021

January 2022

February 2022

Previous month Next month